Beauty & Self
Books & Music
Career
Computers
Education
Family
Food & Wine
Health & Fitness
Hobbies & Crafts
Home & Garden
Money
News & Politics
Relationships
Religion & Spirituality
Sports
Travel & Culture
TV & Movies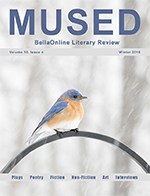 Sometimes it seems as if winter quotes make winter out to be a necessary evil which exists only for us to appreciate the subsequent warmth. Shelley: "If winter comes, can spring be far behind?" Shakespeare: "Now is the winter of our discontent made glorious summer by this sun of York." Hugo: "Laughter is the sun that drives winter from the human face."

But winter is far more than a down against which to compare the subsequent ups. Winter is a powerful, magical time. It is a season of strength. Of looking inward and finding focus. Bob Seger stated, "I write probably 80 percent of my stuff over the winter." Terri Guillemets reminds us, "The color of springtime is in the flowers; the color of winter is in the imagination." The Winter Solstice is a time to embrace the mysterious. The endless possibilities. The sense that we already have, within ourselves, boundless creativity and opportunity. We simply have to still ourselves and listen.

Winter is a powerful season. It gives us that space to look back and learn from our history. To look forward and envision what we wish to become. To be fully mindful of the present and be aware how each day has potential for us to speak out and impact the way our world proceeds. To move us toward peace, fulfillment, and an appreciation of what each of us has to offer.

Happy Winter Solstice.

Enjoy the Mused Winter Solstice 2016 Issue



Valentine's Day Cherry Cheese Tart Recipe
Desserts - Karen Hancock, Editor

Almost everyone likes to make a showstopper dessert for Valentine's Day. This one isn't difficult to make, can be made ahead, and is attractive.




Gingerbread Muffins for ADD Nutrition
Attention Deficit Disorder - Connie Mistler Davidson, Editor

Why stop at a donut shop or fast food drive thru to get something to eat? These Gingerbread Muffins for ADD Nutrition are faster, tasty, and your body will like them better. In a short time, you can have twenty-four sweet and healthy muffins ready to eat. Managing food helps to tame the ADD chaos!




Does Your Perfume Speak For You?
Fragrance - Juliette Samuel, Editor

No longer a luxury reserved for the rich, Perfume adds an attitude to your wardrobe and no outfit is complete without it. The key is in finding or creating a scent blend that enhances your body's chemistry and leaves a mystique for all who encounter your presence.




Beauty the French Way
Ethnic Beauty - Juliette Samuel, Editor

As an ethnic beauty, adding your unique flair to French expression in the beauty world can produce some pretty interesting combinations. Keeping it simple with French beauty products. The less is more approach.




Shrimp and Fish Sandwich Ideas
Sandwiches - Connie Mistler Davidson, Editor

Shrimp is one of those foods that most people don't associate with sandwiches. However, boiled or fried, they make lovely sandwiches. Fish also plays well with breads and rolls! Here are ideas for sixteen excellent shrimp and fish sandwiches.




Healthy Fun Pizza
Cooking for Kids - Kymberly A. Morgan, Editor

You won't believe that these pizzas are both healthy and delicious! Your kids and family will have fun creating their own, and they are quick and tasty. Make extra for school lunches along with a mixed green salad. You can't go wrong with healthy pizza!


| Google+ |
E D I T O R R E C O M M E N D E D
LoMásTv


Highly recommended product, if you really want to improve your Spanish. While watching the video you have the option to read, in subtitles, the words in Spanish and, if you also chose it, you can read the translation (in English) for it. Simply... ¡Genial!
Giada´s Kitchen


In this book each recipe is a burst of taste, colors and combination of flavors; the instructions are really easy to follow for anyone, and the final result of virtually every dish is presented in a beautiful arrangement of photographs.
From Pain to Parenthood


Follow one woman´s incredible and heartfelt journey from the pain of miscarriages to the joy of becoming a parent through adoption. Filled with honest, raw emotions and helpful coping tips, "From Pain to Parenthood" promises to touch your life with a real story that shows the power of the human spirit and the beauty of a mother´s love.