Beauty & Self
Books & Music
Career
Computers
Education
Family
Food & Wine
Health & Fitness
Hobbies & Crafts
Home & Garden
Money
News & Politics
Relationships
Religion & Spirituality
Sports
Travel & Culture
TV & Movies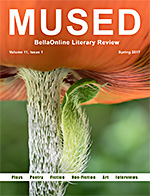 In our modern world of 24-hour diners and around-the-clock email, it sometimes seems as if we've lost track of nature's cycles. But then the Spring Equinox comes along and reminds us to pause. For thousands of years, cultures around the world have recognized this one special day as representing a balance of light and dark. It's a unique moment in time where our world settles in equilibrium – just for a breath. And then the sunlight shines out and pulls us deeper into Spring.

Enjoy the Mused Spring Equinox 2017 Issue



Ella Autie Book Review
Reading - Connie Mistler Davidson, Editor

Ella Autie by Catlaina Vrana is an informational picture book about autism that is written and illustrated by a young autistic woman. With charming illustrations and forthright text, it tells the story of a 4th grade girl with autism. The book shows how understanding autism can lead to friendship.




Choco-Nut Chunk Cookie recipe
Cooking for Kids - Kymberly A. Morgan, Editor

A super easy, super healthy snack that your kids can help you make. They are Packed with nutrients, and your kids will never know they are clean cookies! You can have your cookie and eat it too. You'll want to make these over and over again!




Chamaeleon – the Southern Stellar Lizard
Astronomy - Mona Evans, Editor

Chamaeleons lived in lands exotic to 16th-century Europeans. Yet although color-changing lizards are fascinating, Chamaeleon the constellation is a small, dim southern sky constellation with no associated mythology. Why does it even exist? Is there anything of interest there?




Needleart 1921 edging #6
Tatting - Georgia Seitz, Editor

These patterns are from the "Needleart" magazine Vol.8 #3 published in 1921 on page 17 and continued on page 68. There are seven patterns of varying degrees of difficulties. The designs are intended for underwear but today's fashions would also be enhanced on outer wear as well. More this summer.




Gifted Kids
Learning Disabilities - Celestine A. Gatley, Editor

Motivation, communication skills, and reasoning have something in common. It is called giftedness. Each child has a different level of giftedness. There are traits that can be found in children.




Wild Rabbits in California
California - Korie Beth Brown, Ph.D. , Editor

Breeding like rabbits? Hardly; at least one California species is highly endangered. Who cares? Well, we should. Why? Read on....


| Google+ |
E D I T O R R E C O M M E N D E D
How to Write Descriptions of Eyes and Faces


by Val Kovalin, your BellaOnline editor for the Fiction Writing site. Learn to describe the appearance of the eyes, actions involving the eyes, and how to describe eyelids, eyebrows, and eyelashes. More than 2,000 words explaining 82 color names to assign to eyes. Facial shapes, forehead, ears, cheekbones, nose, lips, chin, and facial hair. Learn how the face shows different emotions, and more!
EatingWell Magazine


EatingWell is the award-winning magazine that focuses on healthier eating habits for the entire family. EatingWell magazine features articles on subjects such as how to prevent weight gain during the holidays, foods that boost metabolism, healthy budget dinners, and dangerous ingredients that you may not realize you´re eating.
Visual Link Spanish


Spanish language, interactive lessons. You can try 11 lessons for free. I´ve been recommending this course for several years, as I find it very intuitive.